What Is Myopia?
Myopia, also known as nearsightedness, is a common vision problem that affects nearly 30% of people in the United States. Nearsightedness causes distant objects to appear blurry or out of focus.
At Capitol Optometry, we offer various myopia control options that can help slow the progression of myopia and reduce the risk of serious eye conditions down the road.
Book an appointment today and we can help determine which myopia control option can work for you.
Myopia often develops during childhood. Children who spend lots of time indoors, reading, or using screens can be at an increased risk of developing myopia.
It can affect kids' ability to learn and perform in school, as they may have difficulty seeing the board. Controlling myopia early can reduce your child's reliance on corrective contact lenses and glasses later in life, and reduce their risk of developing certain eye conditions.
Book an appointment with us today for an assessment and personalized treatment plan to help manage your child's nearsightedness and slow its progression.
Book Appointment
Types of Myopia Control
If your child has been diagnosed with myopia, or if you're concerned about their risk of developing nearsightedness, myopia control can help slow the condition's progression.
We offer a number of myopia control options that we can recommend to treat your or your child's nearsightedness.
Soft Multifocal Contact Lenses
Soft multifocal contact lenses are designed to slow the progression of myopia over time while promoting eye development.
We offer Natural Vue and MiSight soft multifocal lenses. Our experienced optometrists can work with you and your child to recommend one that fits their unique needs.
Orthokeratology
Orthokeratology, commonly called ortho-k, is a myopia control option for those who prefer not to wear glasses or contact lenses throughout the day.
Ortho-k involves wearing specially designed custom-fit contact lenses overnight, which can gently reshape the cornea and correct nearsightedness during the day.
Get Your Child's Vision Back on Track
Our experienced optometrists will work with you to determine treatment options for your child's needs.
Book an appointment today to learn more about how we can help manage your child's myopia.
Book Appointment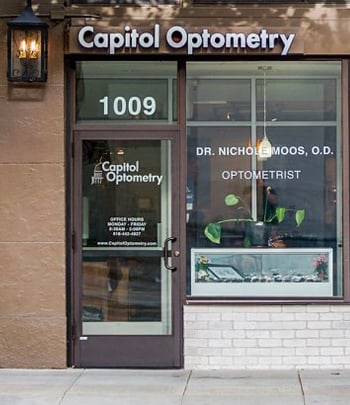 Visit Us
Conveniently located in downtown Sacramento, we validate parking for 1.5 hours at all city lots. The City Hall Garage and Capitol Garage are nearby.
1009 12th St.

Sacramento

,

CA

95814
Hours of Operation
Monday

:

8:30 AM

–

5:00 PM

Tuesday

:

8:30 AM

–

5:00 PM

Wednesday

:

8:30 AM

–

5:00 PM

Thursday

:

8:30 AM

–

5:00 PM

Friday

:

8:30 AM

–

5:00 PM

Saturday

:

Closed

Sunday

:

Closed